HOMOEOPATHIC HAIR REJENUVATION TREATMENT (HHRT)
Homoeopathic Hair Rejenuvation Treatment (HHRT) is a purely natural treatment without the use of any chemical source. This treatment was innovated by Dr Gourav Rathour after research and clinically proven. Dr Gourav Rathour had successfully treated 838 patients out of 855. This data shows the success rate is very high.
As the era has changed there has been an immense opportunity for the growth of every aspect of science so as homeopathy. In this modern era, homeopathy is working very well in cases of hair, skin, chronic illness, idiopathic diseases, etc.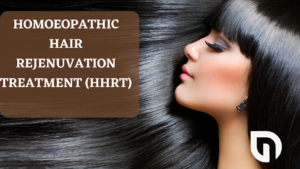 What is hair rejenuvation treatment?
This hair treatment is an advanced non-surgical procedure that uses your own blood-derived growth factors to activate your own stem cells and encourage a cascade of accelerated healing. In this treatment, we incorporate homeopathic medicine with stem cells for better and long-lasting results.
This treatment varies from person to person according to the texture, quantity, and quality of the hair. Many people are not aware of their hair loss and continue using chemical-rich products for their looks. As time passes they lose the actual quality of their hair.
Benefits of homoeopathic hair rejenuvation treatment-
Non-surgical procedure.
Chemical free
Without any side effects
Long-lasting
Work on both quantity and quality of hair.
Revitalise the hair cells.
Activates the hair stem cells.
Improves hair growth.
Eliminates the previous infection.
This is the new innovation added by Dr. Gourav Rathour to his practice after experiencing 8 years of practice, for his patients who wasted their valuable time and money for their hair treatment. You can also check our reviews by following our youtube channel Nigo lifeline homoeopathy.
More to explore
Follow us: